Corporate Profile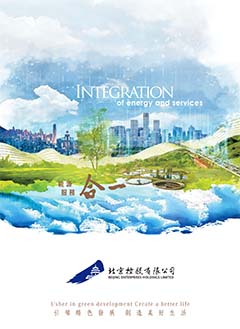 Company Brochure
In 1997, Beijing Enterprises Holdings Limited ("BEHL") was formed upon eight units of premium assets in Beijing. Leveraging its strength and the strong background, BEHL always gets close attention and support from the capital market. On 29 May 1997, it was listed on the Hong Kong Stock Exchange, creating Hong Kong IPO records by then for the capital raised, P/E ratio, and oversubscription multiples.
After listing, reorganization, transition, resources integration, BEHL successfully transformed into an integrated public utilities company with core business covering city gas, water treatment and solid waste treatment. Its city gas business now covers over 50 million users with more than 550,000 kilometers of pipelines in operation; its water treatment business has a design capacity of 44.29 million tons per day and its global capacity of waste incineration and power generation integrated treatment reaches 32,895 tons per day. Meanwhile, it also engages in value-oriented investment business, which comprises mainly the ownership of Yanjing Brewery, a large brewery group in China and one of the largest breweries in Asia. Putting Chinese enterprises' "Going Global" international strategy into practice, BEHL owns rich oversea assets, including advanced water treatment projects in Malaysia and Portugal; leading energy from waste projects in Germany, Luxembourg and the Netherlands. BEHL has already become the global financing and investment platform with various channels in capital market for public utilities segments.
High Quality Development
BEHL grasps the green development concept of "the environment is people's livelihood, green mountain is beauty, blue sky is happiness" and work diligently to become the builders of the people's good life, kept growing while serving the country in ecological civilization construction, providing social clean development momentum, meeting the public demand of quality life, and to contribute strength to the progress of era.
Since establishment, BEHL

Contributed clean energy, with Beijing gas and China Gas selling 387.51 billion cubic meters of natural gas;
Provided clean water for daily life and production. The water supply of BE Water has reached 14.48 billion tons;
Built an eco-friendly and sustainable water recycling system, and the cumulative sewage treatment volume of BE Water supplies has reached 40.721 billion tons;
Collected solid waste and turned it into energy. The total waste treatment volume of BEHL Solid Waste Treatment Platform and EEW GmbH was 65.897 million tons;
Treated hazardous waste professionally, safely and efficiently, BEHL Solid Waste Treatment Platform has treated a total of 504,000 tons of hazardous waste;
Provided green food for quality life. Yanjing Brewery has achieved a total beer sales volume of 91.51 million kiloliters.
Milestones
1997
Established upon reorganization of eight units of premium assets in Beijing, BEHL is listed on the Hong Kong Stock Exchange (0392.HK)
2004
Achieved strategic transformation with public utilities business as its core, and initiated the joint reorganization with Beijing Gas
2007
Acquired Beijing Gas to consolidate city gas as our main business framework
2008
Formed BE Water(0371.HK) and successfully transformed into an integrated public utilities company
2009
Implemented the development strategies of the solid waste treatment business of BEHL, preliminarily formed the development pattern of public utilities layout with gas, water and environment
2012
Further divested non-core business segments, consolidated assets in water treatment, adjusted and optimized the asset allocation
2013
Invested in China Gas(0384.HK) and achieve nationwide planning for natural gas distribution
2014
Achieved strategic transformation of BE Environment (0154.HK), and established a professional platform for solid waste treatment
2016
Acquired EEW Energy from Waste GmbH, further exalt BEHL's business capacity and industry standing in the environment
2017
Invested in the VCNG project of Rosneft and extended value chain business to the upstream oil and gas fields
2020
Built a green finance framework and issued euro green bonds for the first time to promote harmonious and sustainable development of business, economy, society and environment
2022
Assigned by Fitch Ratings first-time Long-Term Issuer Default Rating (IDR) of "A", with a stable outlook